Ride Trains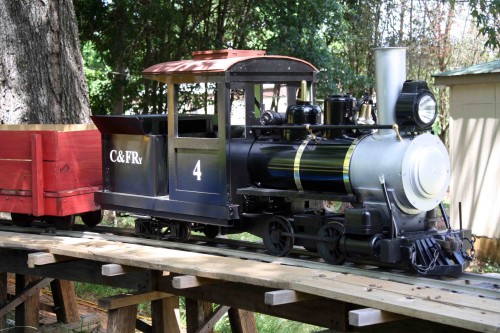 Providing an inexpensive way for kids and adults to enjoy the great hobby of live steam outdoor (and sometimes indoor) railroads. Check out our products and start enjoying 7.5" or 7.25" gauge model railroading. Take a look at the power chassis page for our selection of power chassis, including the extremely popular MMC chassis. Be certain to click through to see what some of our customers have built on a solid and reliable foundation. Or if you want something ready to ride out of the box, take a look at the Mini Motor Car. The goal was to make a small, inexpensive, and reliable electric speeder. The Mini Motor Car has proved strong and reliable, racking up many miles. With the LRV controls it is extremly easy to use and I've had everyone from the cable contractor to trick-or-treaters take it for a spin.
Contact Information
We are a small operation, note that email is often the best way to get ahold of us. I do work one of those "day jobs" so if you get voice mail either leave a message or email a request with your phone number and I will be sure to call you back. Thanks!
Telephone
801-819-2187
*the old number is still valid, but now rings the shop
Postal address
3234 Meadow Loop Bay
West Valley City UT 84128
Electronic mail
General Information, Sales: sales@ridetrains.net
Webmaster: roy@ridetrains.net
Be sure to put "RIDE TRAINS" in the subject line to avoid being caught by the spam filter.
What's New
Wheels back in stock! If you need something special, we can custom machine it.
Tsunami-2 sound chips are now standard. 40+ horns, 30+ bells
Detail parts and smaller scales items.
Made to order, shipped directly to you.
http://www.shapeways.com/shops/rtrains
Peg Perego and Thomas the Tank Engine are trademarks of their respective companies.
The Products sold on this website are not toys and are not intended for use by children.