All bare chassis except the Tek-Nek conversion come standard with two undrilled coupler pockets using standard 1"x2" square tubing. By popular demand we've added an unpowered version for all your 4-wheel rolling stock needs. Minimum operational weight of all chassis is 65lbs to allow the suspension to operate properly and follow uneven track, excepting the Tek-Nek conversion which needs 30lbs. Maximum chassis weight is 300lbs. All chassis are custom made. If you need a different length or wheelbase, contact us for a quote, many times it doesn't change the price!
I have received so many great photos of customer projects that I have split this page into separate pages for each style of chassis, you will find customer photos and more detailed descriptions under each style so you can see what would work best for your project.
Click on the description to see what people have been able to build with these chassis.
I always stock everything I need to build everything that I list on the website, but very few things get built until they are ordered. Because of this changes are rarely a problem and usually don't cost very much. Contact us for a quote.
Customization is great, one customer wanted his MMC to look more speeder-like.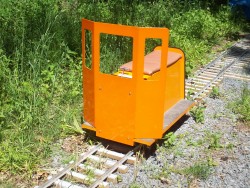 Don't forget a motor controller to power your design! The Syren25 is very well suited to this application, having an operating voltage of 12 to 24vdc.