Tek-Nek conversion chassis
This chassis was developed specifically to convert the Tek-Nek ride-on Thomas to 7.5/7.25"
gauge. It has been used for several other purposes. Because of the psuedo 3-point suspension it tracks extremely well. Recommended run voltage is 12v for a top speed of 5mph. Recommended weight limit is 150lbs for the chassis, 65lbs for the plastic ride-on toys.
The single problem with this chassis encountered is the low clearance of the motor, anything sticking up above the railhead between the rails more than 1/2" poses a hazard to this chassis and any rider.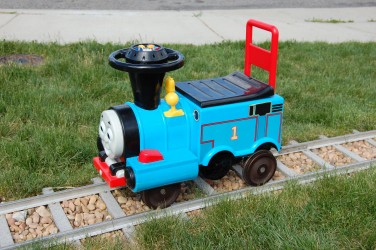 The original purpose of this chassis. These plastic bodies can still occasionally be found on the used market and at thrift stores.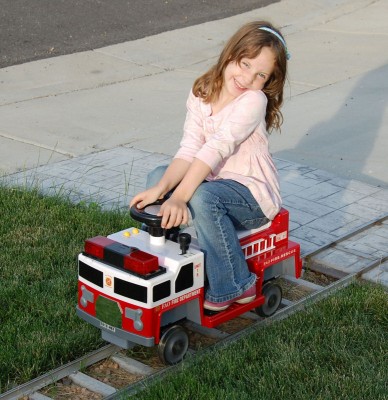 I was asked to convert this FunRise Tonka fire engine, a lengthened Tek Nek conversion chassis worked very well. My daughter's getting a bit too big to be my test engineer for ride-on toys.