SOUND / LIGHT / MOTOR CONTROL
It has been my goal for a number of years to add a decent horn to my electric locomotives without resorting to an expensive and difficult to install 'large scale' sound system. I now offer what is arguably the best sound system available in our scale, along lighting effects and motor control, all for a about half the price of the leading competitor. This has the added benefit of being fully integrated, no electrical engineering degree needed to install it.
At the heart of the controller there is a Soundtraxx Tsunami TSU-2200. http://www.soundtraxx.com/dsd/tsunami2/tsunamisound_2.php By using this I get the very best sound clips available, all synchronized to the throttle input.
| | | |
| --- | --- | --- |
| | US | THEM |
| CHOICE OF ENGINE SOUNDS | X | X |
| CHOICE OF WHISTLES/HORNS | X | X |
| FOUR LIGHTING EFFECTS OUTPUTS | X | |
| INTEGRATION INTO HANDHELD CONTROLLER | X | |
| DIRECTLY DRIVES THE MOTOR CONTROLLER | X | |
| DESIGNED FOR 1.5" SCALE FROM THE START | X | |
| | | |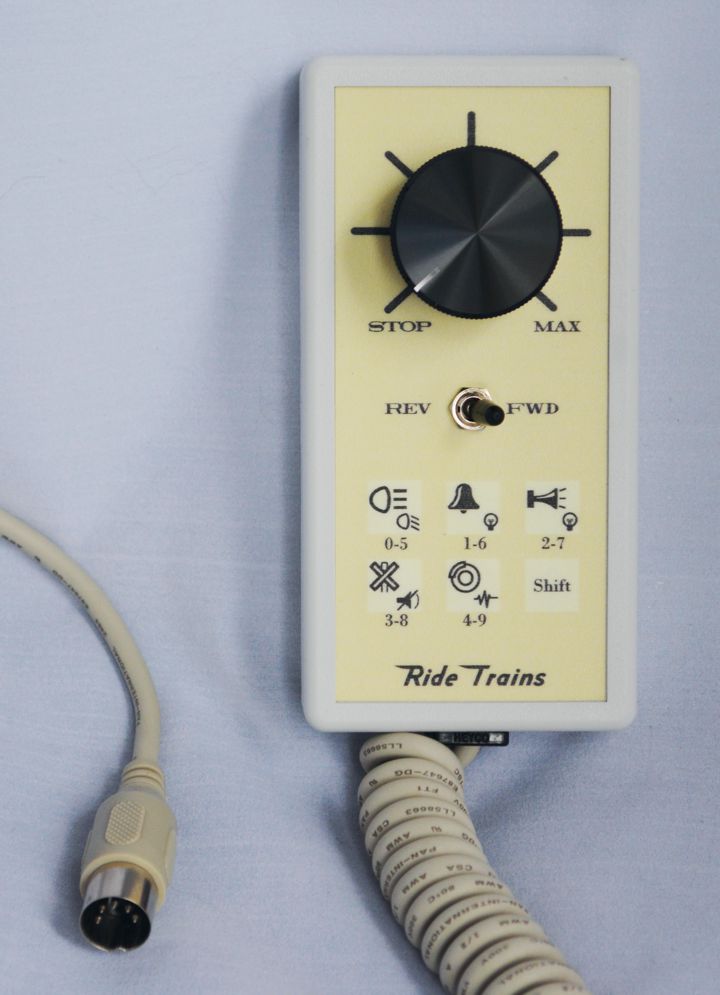 The handheld was designed with ergonomics in mind, and has more processing inside than a 1990's desktop computer. A large knob and solid toggle switch control speed and direction. Six tactile buttons along the bottom control your sound and lighting functions. Recently added is a brake function that can drive a 10amp relay.


The controller is essentially a DCC command station permanently set to address 3. It can run your small trains too if you so desire.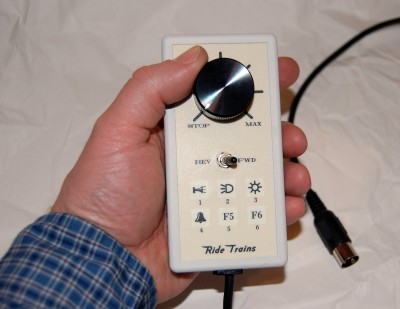 A Tsunami TSU-2 provides the sound and lighting effects. The system plugs directly into a Dimension Engineering motor controller. The sound output of the Tsunami has been isolated and reduced to line level to provide a clean input to an amplifier. Shown is a system with the 50A and 24V amplifier add-ons. Purchase all three together.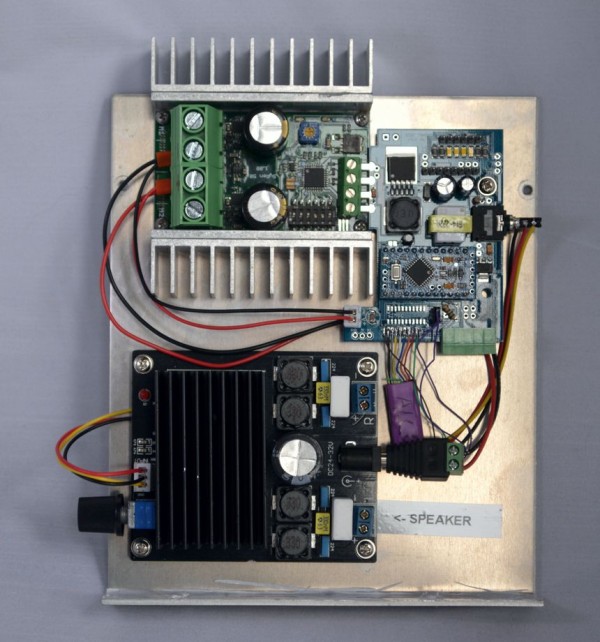 Each system has header outputs for four light circuits. These are programmed for headlight, reverse light, and type 2 ditch lights (On when activated, alternating flashing when the horn is blown) One lighting board with two 3 amp solid state relays is included with each full system, purchase another to drive those flashing ditch lights. These boards can switch 50 watts of lights, powered up to 60 volts DC.